Stems...
Street Fashion Around the World
Czech Republic
Style Feature:

Accessorize your stems
Another great item for fall is leggings, a great accessory to stylize your outfit. Both versatile for everyday wear and can be found in many colors, fabrics, and styles. You be the judge. Leggings are also very comfortable and affordable. You can find them in most department stores, boutiques, and malls. Take the leggings challenge and see how comfortable and also stylish they can accessorize your outfit.
Los Angeles
Berlin
madrid
Toronto

Singer22 was started by husband and wife team of Jon and Alicia Singer. With Alicia's amazing eye for fashion and trends and Jon's great sense of business and marketing savvy, they have created a truly unique, cutting edge and fast growing company. Their first store opened in Spring 2003. They launched www.Singer22.com which fast became one of the most visited sites on the web.
celebrity trend J BRAND Jeans
I have a love/hate relationship with Forever 21 I love that they are able to bring trendy clothing to young individuals that can't afford the high end collections so this hits more of middle america which i feel is a great thing. everyone should be able to feel great in their clothes and be fashionable . But i also disagree with the idea of taking designer collection items and using it as their own. I feel that with the mass production that forever 21 has had on world wide fast fashion we will indeed have a problem with long term effects of the environment. Huge stacks of textiles as Europe is experiencing. Where will they dump them when they can't sell them for .15 cents a pound? Off in some island in our waters. So of course I leave off with it is solely your choice but those are both sides to the story.
Paola Hernandez
upcoming designer NYC from Mexico City studied fashion in london, and in milan.
follow her on facebook and @ twitter
Fashion In Detroit Fashion Show
October 22-23 2010
2901 Grand River
Detroit, Michigan
September 30, 2010
I
♥ Marc Jacobs RTW collection
I absolutely love the colors, the influence of the flower details through their hair and the collection. The colors are vibrant and fun.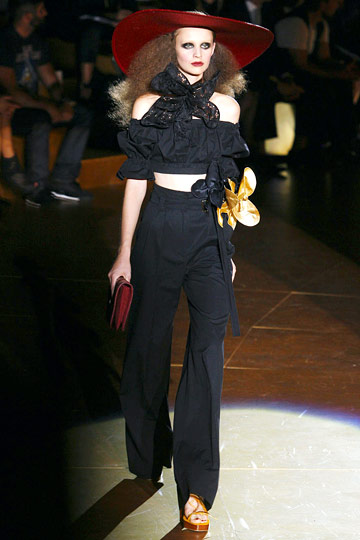 Check out the full collection @
Abercrombie Fined by Immigration Authorities; Pierre Cardin Returns to Runway
Abercrombie & Fitch was fined $1.05 million by Immigration and Customs Enforcement for failing to prove some employees in one of its Michigan stores were eligible to work in the U.S. [WWD]
Penney's Sets Aggressive Store Opening Plan
Posted
WEDNESDAY SEPTEMBER 29, 2010
JCPenney plans to open 75 new stores in the next four years in the hopes of generating $1 billion in sales growth. [WWD]
Self Expression:
Be Unique. Be Expressive. Be You.
Happy Birthday Dad (58th) RIP - Te extraño





















Song of the Day: Julieta Venegas - Eres para mi

Exploring NYC to the fullest