Wake me up to a sunshine...
Vintage Souls
floral prints
cardigans with puff sleeves
brown boots and florals
detailed pieces
bandanas as hair pieces very classic: express yourself
Spring Wear is reinventing your wardrobe for more skin and floral prints. Bringing out your short denims and floral scarves.
My Style Feature: Leather Trims on Clothing
This new trend of using leather trims is really aesthetically appealing and sophisticated. Adding a more geometric and contouring to the body these leather trims are adding luxury to the simple dress.
Leather has been gaining momentum as a key material for the past few seasons, so it's no surprise that skins are beginning to appear in less conventional places. Last season, Phoebe Philo polished her pioneering minimalist looks for Celine by trimming pockets, hems, and seam lines in dark leather. Since then, an abundance ofleather piping and tape have appeared on the runways, giving garments dramatic outlines and a structural feeling. In neutral hues and varying widths, leather trims are being used to draw attention to construction details and to emphasize body-con silhouettes. The resulting looks are both durable and dramatic.(Style Sight 3/18/10)
Leather Lines on Runway Show Trend Alert
by Style Sight
Safety Pins on Garments:

The common fastener has gone from punk to precious. (3/29/10)
| | |
| --- | --- |
| As spring approaches, Hollywood A-listers have been spotted on and off the red carpet in versions of the classic trench coat. | |
JUST BROWSING
04.06.10
After several seasons of muted, bleached or even absent brows, dark, thick eyebrows look right again.
TO THE MAXI
04.13.10
Juniors are starting to incorporate the dramatic maxi skirt into their looks.
A renewed interest in homespun crafts and the 70s Boho lifestyle sparks the return of crocheted beachwear. (4/22/10)
Check out Style Sight Website for more Trend Watch: Fashion Trend Watch 2010
Upcoming Fashion Events: Discarded to Divine
Discarded to Divine 2010: Show
Las Vegas Trip Style Musts
Sequin Dresses are very fab and trendy.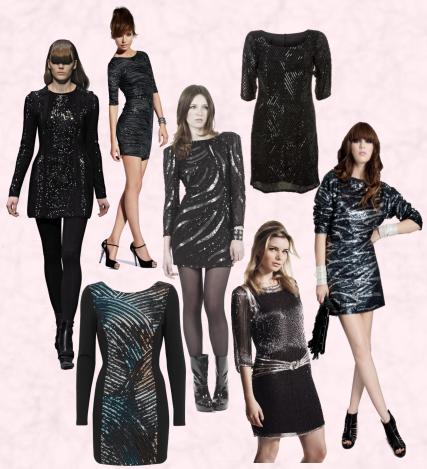 Sequin dresses, Shorts, lots of accessories! and color to your wardrobe for Vegas Trip Weekends!
Be Expressive, Stir your creative soul...
Song of the day: Shakira/Juanes- Tortura
Nos Vemos Fashionistas!